Hungarian Media Law – a new study on the much-debated media regulation is published
2013.01.14. 11:05
By the end of 2012, a new study on Hungarian media regulation was published by CompLex. The book titled Hungarian Media Law was edited by András Koltay, and collects the contributions of 12 expert authors from various fields of media law.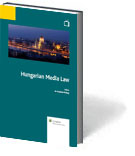 As the foreword of the book says, freedom of the press represents one of the pillars of European culture and civilisation. The fight for the freedom of the press in Europe started many centuries ago and in certain ways it is still in progress. The freedom of the press is a precious jewel shining bright among our common European values, assisting us in operating a democratic society and monitoring governments. As such, without freedom of the press, there is no democracy.
However, freedom of the press does not mean that the media are allowed to operate without any legal restrictions. Freedom has its limits in every field; however, such limits must be defined narrowly and precisely. Freedom of the press can only be restricted if such a restriction serves to protect another similarly fundamental right or constitutional interest. The scope of the freedom of the press is therefore determined by the appropriate balance between the different opposing interests possibly confronting each other in the process of the free expression of opinion.
The new Hungarian media regulation received several criticisms in Hungary and abroad. Among these, the most unrealistic accusations were also made. This study makes an attempt to focus on the law as it is. Upon evaluation of the Hungarian regulation, one must also take into account the other side of the coin, i.e. the interests the regulations intend to protect, and also the proportionality and necessity of such restrictions viewed from the perspective of such interests.
The media regulation of a particular country cannot be evaluated exclusively on the basis of the text of the respective laws. To make a well-founded judgement, it is necessary to have a precise knowledge of the history of the regulation, the constitutional norms of the state and the legal meaning of the notions included in the given law, as well as the legal practice applied by the courts and authorities. This study made an attempt to employ such a complex approach when examining the specific provisions.
The book can be ordered from the publisher.
If you have problems in ordering the book, or need a review copy, please send a mail to the editor.
press freedom, media regulation, Hungarian Media Law, Hungary, essay, Koltay András